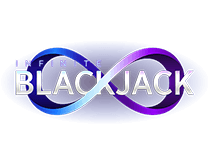 Live Infinite Blackjack
Your favourite table game – like you have never experienced it before. It's the incredible Infinite Blackjack.
Live Infinite Blackjack
GAME INFORMATION
Online presentation of the classic Blackjack game
Low bet limits are perfect for novice and experienced players
Advanced software combines live dealing of physical and virtual cards
Play one hand against the house alongside other players
View real time statistics to see how other players are betting in the hand
Fully supported on desktop, tablet and smartphone
Make all your favourite bets – split, hit, double down and stand
Hit a six card trick and always get paid even if the dealer has Blackjack
Several side bets available to improve your action and winning chances
Any pair bet allows players to bet on making a pair with their first 2 cards
21+3 bet gives players the power to speculate on poker style hands
Hot 3 bets are all placed on the first 2 cards and the dealer's upturned card
Bet on the dealer's busted hand with this special player bet
Return to player rated at 99.51%
HOW TO PLAY BONUSES
Sit down at the Infinite Blackjack table and get ready to play your hand against the dealer. Experience the fast paced action of this casino classic that's loved in all the world's favourite gambling destinations from Monte Carlo to Macau. There's some special rules to this variant that makes it stand out from the host of standard conversions available – so read on to find out about what this game has to offer…
Six Card Charlie
Hit a six card trick with a total of 21 or less and you'll get paid out a prize, regardless of the dealer's total, even if they manage to hit blackjack. This free, extra bet gives you an additional chance to make the most of your cards and win in even a tight situation.
Optional Side Bets
In addition to your favourite blackjack bets – stand, double down, split and hit - you can make several side bets to extract even more value from this fast paced variant:
Any Pair – make a pair with the first two cards of your hand.
21 + 3 – poker style combinations made with the first two cards of your hand together with the turned up dealer's card.
Hot 3 – special combination bets placed on your first two cards alongside the dealer's turned up card.
Bust it – bet on the dealer's hand going bust – and various combinations of their busted hand.